---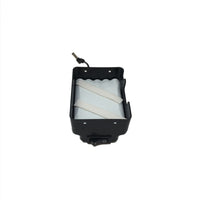 The Model 9003 Series gas analyzers are operated from external power having a power cable that is connected to the power input jack on the right side of the case. The  p/n 001128 Add-On battery pack is a field or factory installed option that goes on the back of the 9003 and converts the analyzer into a totally free-standing unit, independent of the need for external power.
This means that the unit no longer has to be connected to system voltage to operate, making the unit much more convenient to use and impervious to voltage fluctuation in the equipment being tested as, for example, when the vehicle is started or has a noisy generator. The battery pack operates the 9003 for a full day under full charge conditions, and recharges at night using an included wall-mounted charger.
The Add-On battery pack is easily installed in the field to existing 9003 analyzers using simple hand tools. On its left side, it has its own power switch to turn the 9003 on or off. On its right side, it has the power cable to the 9003, a power jack to accept the wall charger, and an LED to indicate when it is receiving external power.
The battery pack is installed on the back of an existing 9003 using 4 self-tapping screws, and the pack housing tightly fits against the 9003 case, making for a tightly sealed and secure installation.
The battery pack may be charged from either the wall supply or from conventional system power using the standard 9003 power cable . which is removed when the power pack is installed. This flexibility means that even if the battery pack is fully discharged, the 9003 can still be operated in the conventional method or from the wall supply. The addition of the battery pack does not limit the equipment use . it only adds to the convenience and flexibility of use.
This field add-on kit makes the Model 9003 fully self-standing. Providing a full 8 hours of operation capability from its own power source . making the Model 9003 a full featured standalone handheld analyzer.
Included in the p/n 001128 Add-On battery pack:
Battery pack with 4 ea. mounting screws,
Wall charger, and
Installation and Use guide.