---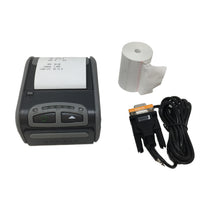 EGA- Serial Printer
Every Exhaust Gas Analyzer from Bridge Analyzers has the ability to directly interface with a serial printer. A hard copy printout of gas readings can be obtained with a single push of a button on the analyzer front panel. The printer is battery powered and connects to a serial port built into the analyzer.
Once connected and turned on, the thermal printer will produce a hard copy record of the gas readings being displayed when the "PRINT" (Model 9004, 9005) or the "CAL" (Model 9003) button is depressed. This function is totally automatic and allows the user to create hard copy records of before and after tuning test results or any other significant gas readings.
The printer is stored in cutouts in the analyzer carrying/storage case as shown below. This is a very rugged printer designed for portable use, and contained in a shock-resistant hard rubber case. It is light weight, 200 grams (0.5 lb) and small  11 x 9 x 5 cm (4.5 x 3.5 x 2.0 inches) – and will operate for a full 12 hour day from one charge.
The hard copy printout is produced within seconds on 57 mm (2.3 in) wide thermal paper.