---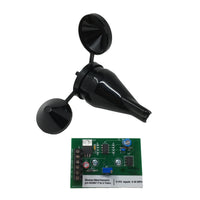 Anemometer 0-10V Output PLC Package
This combination package of the ET-40AC wired anemometer (p/n 003016) with the ET-F2V Converter Assembly (p/n 003007) is an ideal solution for PLC-based wind speed fountain control applications where linear wind measurements are used for VFD pump control.

The frequency to voltage converts the anemometer's AC frequency input into a 0-10VDC output that correlates to 0-30 MPH for use in a PLC control system. Other output ranges are available at time of order per customer request.
Anemometer and Converter Package p/n 003507.